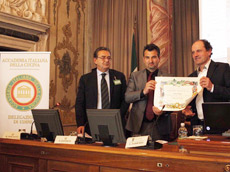 The Italian Academy of Cuisine has awarded the "Dino Villani" prize to Mauro Pighin for the 'Regina di San Daniele' excellence.
The national award is assigned to a producer who stands out for the hand crafting of a food product of remarkable organoleptic qualities, worked with the finest ingredients and a well identified local typicality.
A great satisfaction for us, that we want to share with you!