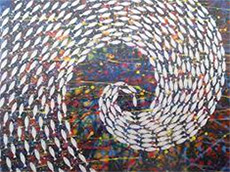 Inauguration of the PENSIERI FLUIDI exhibition
featuring the works of GIANNI MARAN.
Followed by refreshments.
The exhibition will be open to the public until 11 January 2014
Hours:
Monday to Friday: 8.30 – 12.30 / 14.30 – 18.30.
Saturday 9.00 – 12.30 – open on Saturday afternoons in December.
GIANNI MARAN was born in Grado 1958.
An artist in the broadest sense of the term: set designer, costume designer, theatre and film director. He always chooses figurative art as the medium for expressing his everyday dreams. He has taken part in international exhibitions in: Salvador (Brazil), Prague, Stuttgart, Helsinki, Istanbul, Copenhagen, Buenos Aires, Montevideo, Hamburg, Vilnius, Cologne, Vienna, Sydney, Sharjah-Dubai.
His works are in major public and private collections in Italy and abroad. He is listed in the last few editions of the Mondadori publishing house's Catalogo dell'Arte Moderna and in the Enciclopedia d'Arte Italiana.
Review extracts:
……the sea, in the sense of that world of real things, treasury of unexplored mysteries, a fund of vital potentialities for humankind
… the artist sees streams of fish describing geometric patterns in which folk tales and personal myths are "hidden"
… the fish move in different directions, symbolising the different destinies people follow even when they are caught up in seemingly identical mechanisms. (Enzo Santese)
…… a manifesto of life and a way of life which finds in art the appropriate answer to humankind's need for spiritual elevation. Here is concealed humankind's superiority over the rest of the Universe. (Giovanna Barbero)
He has a great quality: he skilfully dominates colour, rendering it in a consistently attractive, harmonious mixture. Not everyone has this ability! He concentrates on seemingly simple shapes and enhances their characteristics. So why is this a virtually monochrome exhibition? It symbolises a great inner balance which transcends such "commercial" gratifications as surprising, enticing, humouring… (Renzo Grigolon)
… In their intensity of certain visions, his elegant figures and his colours convey "vortexes of happiness" and communicate the amazement evoked by feelings and beauty in an almost childlike game of fantasy above and beyond the symbolic architectures and the myths they represent, which, nevertheless, deftly tell a story. (Dante Marinacci)
Every one of his works is a celebration, a tribute to his people, to the life in narrow streets carved in salt, to the perfume of sea air, to the early-autumn mists and, while the tolling of the Ave Maria fades into the dusk-cloaked lagoon, everything becomes poetry awaiting the coming dawn. As God's silence draws men of goodwill to it. This is Gianni Maran's inner world. (Claudio Mario Feruglio)
Info: FriulTrota (via Aonedis, 10 – San Daniele del Friuli – ham production park) Tel. 0432 956560 / www.friultrota.it / email: info@friultrota.it