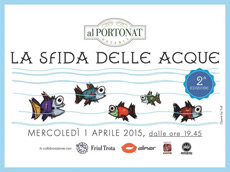 Dear friends,
We look forward to the second edition of the "Challenge of the waters".
It is a challenge between freshwater fish and sea fish, a kind of game in which each course will feature the two challengers.
We will conclude with the paella, the 'dish of friendship', where both challengers will be present.
Given the success of last year, the evening is full of new proposals and protagonists.
You can not miss!
Wednesday, April 1, 2015, at 7.45pm. (It is not an April fool's prank!)
Osteria 'Al Portonat', via Dante Alighieri 7-9, 33038 San Daniele del Friuli