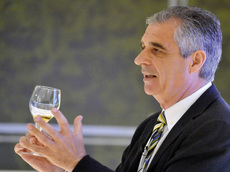 Do you know the importance of drinking a wine in your ideal glass? Friultrota is pleased to offer you an interesting journey into the world of wine led by Wine Manager Walter Filiputti, author of important books including "Modern History of Italian Wine" world award in the Wine & Drinks Books section.
Tasting: the highest moment to celebrate wine. "How could we listen to music without the instruments? And how could we be captivated by the magic of a painting by Vermeer or Caravaggio or all the great artists if their works were not perfectly illuminated? The glass, or rather, the shape of the glass assumes the same importance: it is the indispensable tool to be able to understand the essence, the soul of the wine "… [Walter Filiputti]
We will taste the following wines:
Sauvignon Forchir
Black Magis Black Magis
Pinot Nero Castello Di Spessa
Dreams Jermann
The evening will continue with a tasting of Friultrota specialties. The course is offered at € 25 per person and will be held at the Friultrota tasting room on Friday 10 May at 19.30. A reservation is required that you can make by sending an email to info@friultrota.it or by calling 0432 956560.