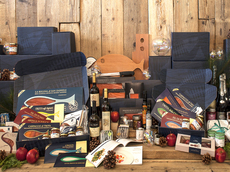 Elegant, original and upstream: these are the exclusive Friultrota gift packs, the perfect gift to put under the Christmas tree.
Have fun creating your own personal gift idea with our specialties: a collection of unexpected flavors, born of Friultrota tradition, combined with an irresistible assortment of gastronomic proposals made by small artisan workshops that, like us, pursue a production philosophy based on passion, tradition and love for good things.
Have a look at our catalog and feel free to call us at 0432 956560 or send us an email to info@friultrota.it for further information.