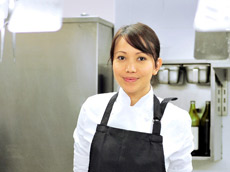 Dear friends, to start the new season of our degustation events we suggest a trip to the oriental cuisine.
Destination Japan , China, Korea , Indonesia to arrive in Thailand.
Theodora Hurustiati, chef and cooking teacher passionate about spices, will bring the Queen and her jewelry in a small trip to the East through its aromas and flavors.
Wednesday, October 22 at our dining room we will present and we will enjoy the following dishes:
- Sushi with " La Regina" and " Eggs Trout" , wasabi mayonnaise , candied ginger and soy
- Burger vapor made with "Sgombro Affumicato" (smoked mackerel), and kimchi
- "Fil di Fumo" with Sichuan pepper , sprouts salad and soy vinaigrett
- Lime Soup with mussels and "Branzino al Naturale"
- "Trota Chef " with citrus, rice and turmeric and coconut sauce
- "Trota Chef " in foil with Thai green curry
- Pineapple carpaccio with lemongrass syrup
You can find these and other information on Facebook and Twitter. Follow us!