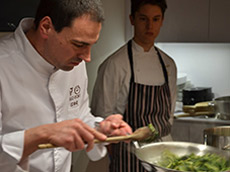 Chef Massimiliano Sabinot of Vitello D'Oro restaurant comes to visit us again!
With his customary skill, he'll teach us how to make new, creative dishes and let us in on a few of his cooking secrets.
We look forward to seeing you in our dining room on Tuesday 12 November.
This is what we'll enjoy:
- Welcome with a Baccalà Mantecato sandwich;
- An entrée that's … a surprise!;
- Regina di San Daniele trout tartare with fennel juice;
- Stocco al Naturale, Biscay Bay anchovies and lime zest risotto;
- Mackerel Surprise;
- Destructured millefeuille, Tatin apples and vanilla-flavoured cream sauce
All accompanied by local wines
The chef will prepare the dishes and describe them step-by-step in our open kitchen