Baccalà Mantecato
[ recipes ]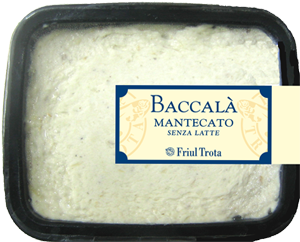 Rehydrated, boiled dried cod emulsified in vegetable oil, MILK-FREE.
Fish's origin
FAO Major Fishing Area 27.
Description
Contrary to the classic, industrial product, our creamed cod is made exclusively with oil, with no added milk, butter, parsley or garlic so you can enjoy to the full the authentic flavour of this traditional dish. Our creamed cod is ready-to-use and may be eaten warm or cold as an hors d'oeuvre, with slices of toasted polenta or toasted Italian rustic bread. Also excellent with fresh, seasonal vegetables as a single-course meal. Available in 1kg trays and in 130g trays for self-service.
Weight
130 g - 1 kg
Ingredients
Rehydrated dried cod (Gadus morhua), sunflower oil, extra-virgin olive oil, lemon juice, salt, white pepper.