Rainbow Trout with Grapefruit Segments
[ Trout ]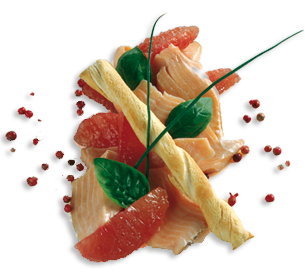 Ingredients
1 fillet Trota Chef al Naturale, 1 grapefruit, extra-virgin olive oil, 1 lemon, basil.
Method
Segment the grapefruit (cut off all the skin and pith then cut between the membranes to release the segments) and arrange them on a plate.
Cut the Chef trout fillet in pieces and dress it with an emulsion of extra-virgin olive oil and lemon. Spoon the fillet and dressing over the grapefruit. Garnish with basil leaves.
Recommended wine: Müller Thurgau
Print recipe