Four Colors "Fil Rosè" Trout
[ Trout ]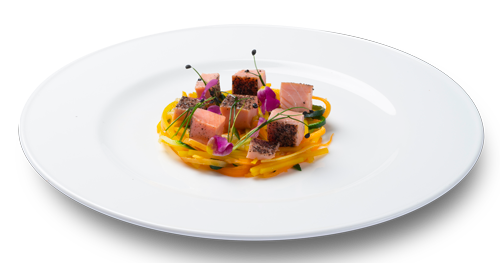 Ingredients
For 4 people:
200 gr. "Fil Rosè" trout, 1 large carrot, 2 medium zucchini, 1 potato, 1 pinch of saffron, extra virgin olive oil, coarse salt.
Method
Clean the vegetables and, with the help of a mandoline, cut the carrot, the green part of the zucchini and the potato, obtaining long sticks. Bring the water to a boil with a tablespoon of coarse salt and boil the carrots in it. Drain and immediately cool in water and ice. Proceed in the same way with the zucchini. Scent the water with saffron and cook the potatoes. Gather the vegetables in a bowl and season with a drizzle of delicate extra virgin olive oil.
Create a nest with the vegetables in the center of a plate and place the "Fil Rosè" trout in cubes.
Recommended wine: Pinot bianco di oltre un anno
Print recipe