Rainbow Trout with Herbs with Endive Salad, Pomegranate and Trout Eggs
[ Trout ]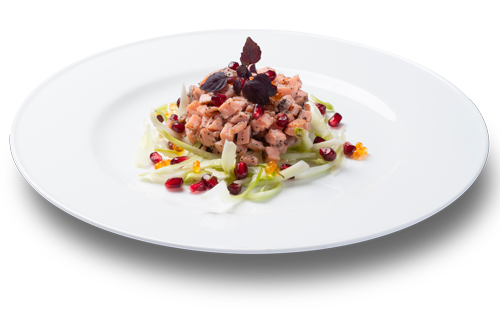 Ingredients
Rainbow trout with herbs fillet
Endive salad
A few pomegranate grains
A few teaspoons of Trout Eggs
Method
Heat the rainbow trout fillet with herbs for a few minutes in its bag, in a bain-marie. Remove the bag and the skin from the fillet, then cut it into cubes.
Lightly toss the endive salad, cut into thin strips, in a pan with a drizzle of oil, without turning brown.
Arrange the salad on the plate, then arrange the trout cubes over it in a pyramid shape, then garnish with some pomegranate grains and a few teaspoons of trout eggs.
Print recipe