Cacio cheese and "Fil Rosè" Tonnarelli
[ Trout ]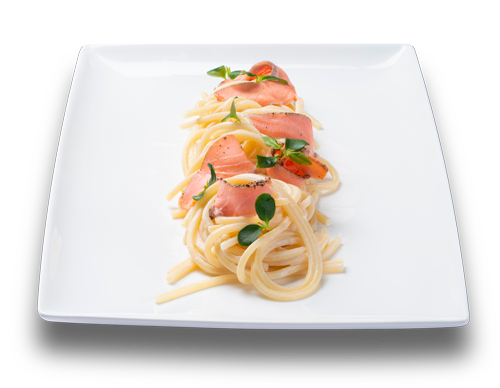 Ingredients
For 4 people:
150 g "Fil Rosè" trout, 280 g tonnarelli, 100 g of seasoned pecorino romano cheese.
Method
Thinly slice the "Fil Rosè" trout and set aside. Bring the water to a boil in a pot with coarse salt and add the tonnarelli. While cooking, thinly grate the pecorino. When the pasta is cooked "al dente", drain it (keeping part of the cooking water) and transfer it to a bowl. Add the pecorino and whisk the pasta, adding the cooking water necessary to obtain a soft cream.
Arrange the pasta on the plate, creating a sort of "nest" and complete by covering it with the slices of "Fil Rosè" trout.
Recommended wine: Chardonnay affiinato in legno
Print recipe