Baccalà Mantecato, Green Celery and Uova di Trota Terrine
[ Trays ]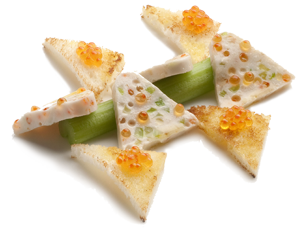 Ingredients
250 g Baccalà Mantecato, 2 green celery stalks, 40 g Uova di Trota, 60 g fresh whipping cream, 10 g gelatine leaves, salt, pepper, 1 small bunch parsley.
Method
Soak the gelatine leaves in plenty of cold water. Wash the celery stalks and cut them into a ½cm dice. Bring a small pan of water to the boil with a pinch of salt and a pinch of baking soda. Blanch the celery dice, make sure they stay crisp; drain and cool immediately in iced water. Finely chop the parsley. Put the creamed salt-cod in a bowl, add the parsley, celery, and rainbow trout eggs. Adjust the seasoning with salt and pepper then mix carefully. Bring the fresh cream to just under the boil then dissolve the well-squeezed gelatine leaves in it. Pour the hot cream onto the creamed salt-cod and mix carefully with a wooden spoon. Dampen the inside of a small loaf tin and line it with clingfilm. Pour the salt-cod mixture into the tin, level it off using a spatula and fold the edges of the clingfilm over to close. Put the tin in the fridge for at least 4 hours.
When the terrine is set, unmould it and, leaving the clingfilm, cut it into thin slices. Remove the clingfilm from each slice and serve on slices of hot, baked polenta or toasted bread.
Recommended wine: Chardonnay
Print recipe