Sedanini 30-70 with sun-dried tomato pesto, broad beans and salted ricotta
[ Altre specialità ]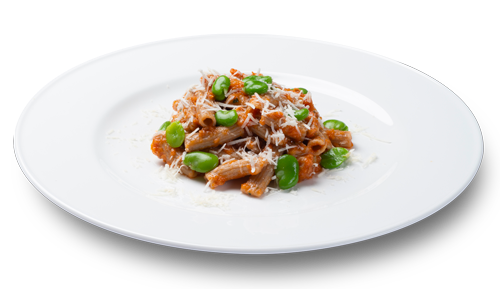 Ingredients
For 4 people:
280 g of sedanini spelled pasta '30 -70 '
120 g of sun-dried tomatoes
20 g of almonds
Half clove of garlic
120 g of broad beans
50 g of salted ricotta
Salt, pepper
Extra virgin olive oil
3-4 basil leaves
Method
Put the drained sun-dried tomatoes, almonds, garlic and basil leaves in a food processor. Operate the food processor and add a little Extra virgin olive oil until you get a pesto of the desired consistency. Boil the broad beans in salted water, drain them, let them cool and peel them.
Cook the sedanini in lightly salted water and drain them into a bowl. Dress them with the sun-dried tomato pesto and add the broad beans. Adjust the flavour with salt and pepper.
Divide the portions into plates and flavour with grated salted ricotta.
Print recipe