Salmone cotto al vapore alle Erbe
[ recipes ]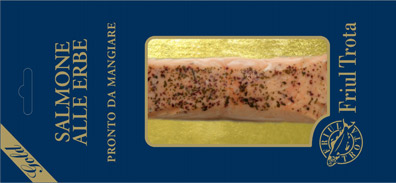 Steamed salmon steak with herbs.
Fish's origin
Farmed in Scotland/Norway.
Description
This salmon is ready to use and may be eaten hot, warm or cold as an hors d'oeuvre or main course with a drizzle of extra-virgin oil, lemon and pepper. Also ideal for a single-course meal, accompanied by fresh, seasonal vegetables.
Weight
100/140 g
Ingredients
Salmon (Salmo salar), salt, herbs (basil, fennel) in varying proportions (0.1%).
Production method
Steaming.