K-ration of Smoked Mackerel
[ Other fish ]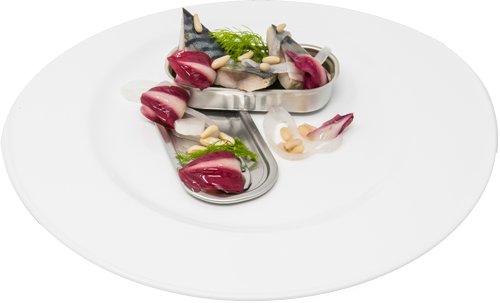 Ingredients
For 4 people:
2 fillets of "Smoked Mackerel with Pepper", 2 medium-sized heads of Treviso's radicchio, 20 gr. of pine nuts, 30 gr. of sultanas, wild fennel, 10 gr. of sugar, 30 gr. of white wine vinegar, salt.
Method
Clean the Treviso's radicchio, wash it, dry it and cut it into large pieces.
Transfer it to a bowl and season with a pinch of salt, sugar, white wine vinegar and chopped fennel. Add the pine nuts and sultanas.
You can replace the sultanas with stewed onion, or simply add it. Transfer everything to a bag suitable for cooking.
Cook the "saôr" by immersing the bag in a saucepan of lightly boiling water for 15 minutes. Remove the skin from the "Smoked Mackerel" and cut each fillet into 4 slices.
Arrange a few tablespoons of "radicchio in saôr" on the bottom of a can, place two slices of mackerel on the radicchio. Garnish with some croutons of toasted bread.
Recommended wine: Traminer della zona di Aquileia
Print recipe