Rainbow Trout Ravioli
[ Trout ]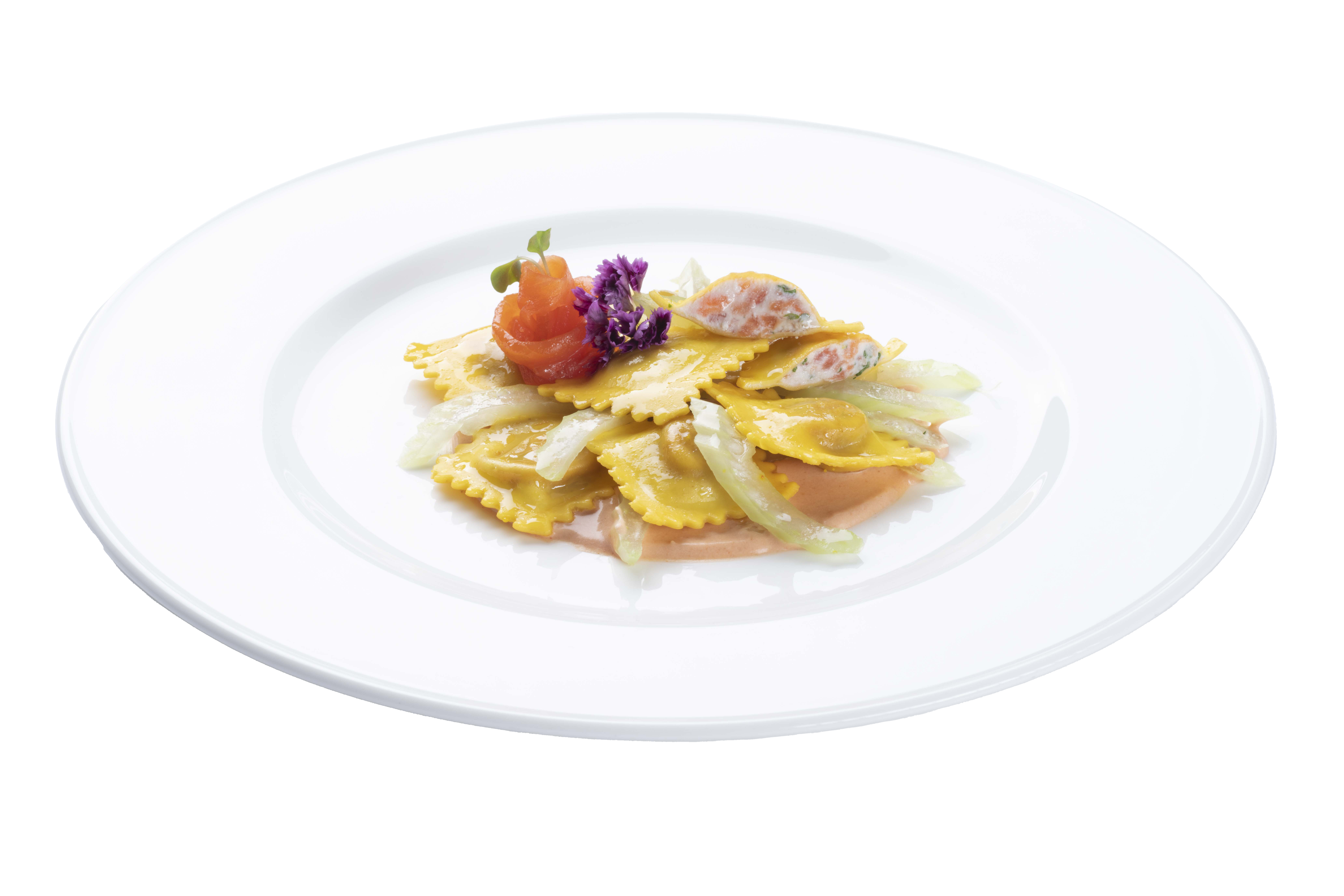 Ingredients
For 4 people:
For the fresh pasta: 90 gr. 00 flour, 10 gr. durum wheat semolina flour, 2 egg yolks, 1 whole egg, delicate EVO oil
For the filling: 40 gr. of "Regina di San Daniele" rainbow trout, 120 gr. of boiled potatoes, 2 tablespoons of low-fat yogurt, 1 piece of onion, ½ clove of garlic, salt, pepper, delicate EVO oil
For the sauce: butter, rainbow trout soup
For the garnish: "Regina di San Daniele" rainbow trout cut into cubes, 5-6 per person, celery, "Trout Eggs", delicate EVO oil
Method
Start with the preparation of fresh pasta: place the flour on a pastry board, add all the ingredients in the center and knead vigorously until the dough is smooth and homogeneous.
Form a loaf, wrap it in cling film and let it rest for about an hour. Prepare the trout soup by boiling 250 gr. of skin and the offal of the rainbow trout in 500 gr. of cold water for 20 '.
Cut the celery into small pieces, remove the fiber with a potato peeler, blanch in water for 3 minutes and cool.
Marinate the "Regina trout" cubes with celery, salt, pepper and oil. Meanwhile, prepare the filling. After boiling the potatoes, mash them well, sauté them with the onion and garlic, lightly brown without burning, and pour it over the cold potatoes, add the yogurt, a few lavender flowers, and the Trout cut into small pieces. Flavour with salt and pepper, mix well and place the filling in a pastry bag.
Roll out the dough and cut into discs, stuff with the filling and close the ravioli forming small turbans.
Dip the ravioli in boiling salted water. Drain the ravioli and sauté them with a knob of butter and a little Trout soup. Arrange them on plates and garnish with the cubes of Trout and marinated celery, a little trout eggs, and lime zest.
Recommended wine: Friulano collinare
Print recipe