Smoked Mackerel Pancake
[ Trout ]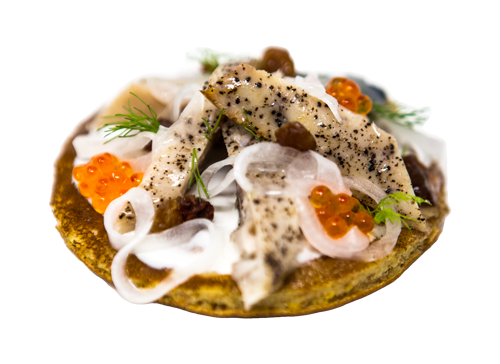 Ingredients
For 16 pancakes:
100 g 00 flour, 50 g buckwheat flour, 100 ml of milk, 30 g melted butter, 1 teaspoon of baking powder, 2 eggs, salt to taste.
For the stuffing:
4/5 fillets of "Smoked Mackerel" with pepper or of "Mediterranean Mackerel", 1 jar of "Trout Eggs", 1 white onion, 1 carrot, 2 tablespoons of sultanas, 1/2 glass of white wine, 1 tablespoon of vinegar, 2 tablespoons of extra virgin olive oil, a jar of natural yogurt, salt, pepper.
Method
In a bowl mix all the ingredients for the pancakes to obtain a homogeneous batter, leave to rest for 30 minutes. Julienne the carrots. Slice the onions with a mandoline and place them in a bowl with water and ice for about 30 min. After this time, drain them and let them dry with the carrots over low heat for a few minutes (they must not brown), add the sultanas, vinegar and white wine. Season with salt and cover, letting it rest off the heat. In a lightly greased non-stick pan prepare the pancakes using a spoon of batter for each one, cook both sides. Place the pancakes in the center of the plate spread with yogurt, arrange the "Smoked Mackerel" fillets cut into diamond shapes. End with
the onion and carrot mixture and a few drops of yogurt, then decorate with the "Trout Eggs".
Recommended wine: Schioppettino
Print recipe