Fil Rosè with Treviso's radicchio and pine nuts
[ Trout ]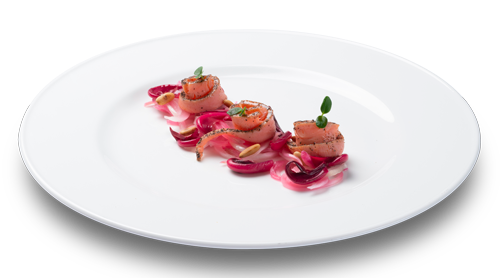 Ingredients
Fil Rosè
Treviso's Radicchio
Pine nuts
Method
After cutting the Treviso radicchio into thin strips, sauté it lightly in a pan with a drizzle of oil.
Separately, brown the pine nuts with a little oil in a pan, so that they become crunchy.
Wrap a thin strip of Fil Rosè around your index finger to create the shape of a rose.
Arrange the Radicchio on a plate, place the Fil Rosè roses on top and finally garnish with the crispy pine nuts.
Print recipe