Trota Regina, Goat's Cheese and Apple Domes
[ Trout ]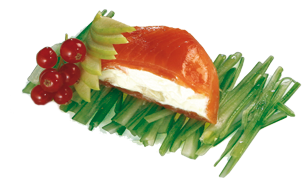 Ingredients
250 g Trota Regina, 200 g Granny Smith apples, 150 g fresh goat's cheese, chives, celery, extra-virgin olive oil, salt and pepper.
Method
Wash, peel and core the apples and slice the flesh into matchsticks, transfer them to a bowl and dress with a drizzle of oil, a pinch of salt and a little pepper. Mix in the goat's cheese and the finely chopped chives.
Finely slice the Regina trout and line four dome-shaped moulds; allow the slices to hang over the edges. Fill each mould with the apple and cheese mixture, pressing lightly to eliminate any empty spaces. Cover the mixture with the overhanging trout slices and add more pieces of trout to cover any gaps. Cover the moulds with clingfilm and leave them to cool in the fridge for an hour. Slice the celery in julienne strips and dress with an oil-and-lemon emulsion. Make a bed of celery on four plates, place a Regina trout dome on each plate. Decorate with triangles of toast and slices of sautéed apple. Season with salt and pepper.
Recommended wine: Silvaner – Trentino
Print recipe