Cassata of Rainbow Trout on Agretti's Nest
[ Trout ]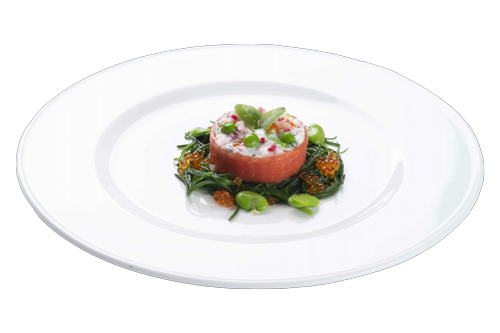 Ingredients
For 4 people:
250 g of pre-sliced Rainbow Trout "Regina di San Daniele", 1 fillet of "Fil di Fumo" smoked trout, 150 g of ricotta, 100 g of broad beans, 4 tablespoons of Trout eggs, 300 g of agretti, extra virgin olive oil, salt and pepper as needed.
Method
Clean the agretti, wash them and sauté them in a pan with a drizzle of oil, then let them dry.
Clean the beans, blanch them and peel them.
In a bowl, gently mix the ricotta, the chopped broad beans, the crumbled "Fil di Fumo" trout fillet and the Trout Eggs. Season with salt and pepper.
Case an aluminum mold with some slices of the Trout, arrange the mixture inside, then close the trout slices to seal.
Arrange the agretti on a flat plate, lay the cassata, season with a drizzle of extra virgin olive oil and garnish as desired.
Recommended wine: Sauvignon giovane aromatico
Print recipe