Creamed Cod Cannoli
[ Other fish ]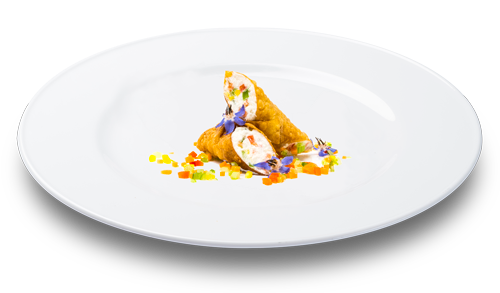 Ingredients
2 sheets of phyllo dough, 250 gr. of Creamed Cod, 1 carrot, 1 celery stick, 1 fennel, 30 gr. of butter.
Method
Peel the carrot and clean the other vegetables. Wash them and cut them into cubes. Brown them in a non-stick pan with a drizzle of oil and a pinch of salt, keeping them "crunchy".
Transfer the vegetables to a bowl and let them cool. Add the "creamed cod", mix well with the vegetables and adjust the flavor with salt and pepper. Melt the butter. Roll out the phyllo dough sheets and cut them into squares.
Brush them with melted butter and arrange the cod filling at the end. Roll the phyllo dough into cannoli shape and carefully seal the edges. Also brush the surface with melted butter.
Arrange the cannoli on a baking sheet lined with baking paper and cook them at 180 ° C for 12-13 minutes, until golden and crunchy.
Recommended wine: Chardonnay affinato in legno
Print recipe