"Delicate" Cod cannelloncini with black polenta
[ Other fish ]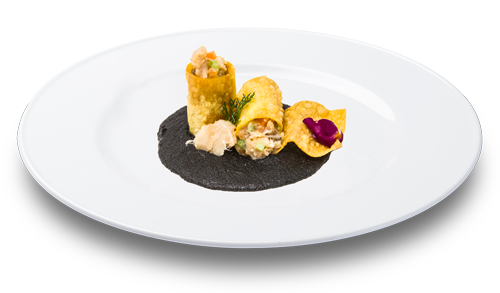 Ingredients
For 4 people:
1 package of "Delicate Cod", strips of fresh egg pasta, green celery, carrots, white corn flour, squid ink, peanut oil.
Method
Prepare crispy cannelloncini by frying strips of fresh egg pasta in boiling peanut oil, after wrapping them on metal cylinders.
Warm the "Delicate Cod" and add the green celery and the previously blanched carrots cut into cubes.
Stuff the cannoli with the cod mixture and serve them on soft black polenta, obtained by dissolving white corn flour in lightly salted water and to which has been added a teaspoon of squid ink .
Recommended wine: Friulano collinare
Print recipe