Mixed Hors d'Oeuvres
[ Trout ]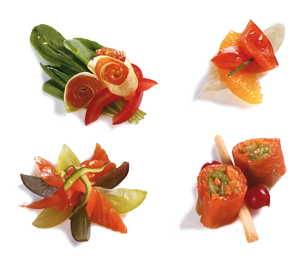 Trota Regina and grape salad
Prepare a julienne of Regina trout. Strip black and white grapes from two bunches, wash the grapes and cut in quarters. Arrange the Regina trout on top of the grapes, drizzle over a little oil and serve.
Trota Regina roll with a mini herb omelette, lamb's lettuce and Pachino tomatoes
Beat some eggs and add chopped mixed fresh herbs. Make thin omelettes filled with slices of Regina trout then roll the omelettes up. Cut the omelette rolls into bite-sized slices and serve them on a bed of lamb's lettuce and a few slices of Pachino tomatoes.
Fennel boat with Trota Regina and fresh orange
Wash the fennel bulbs and cut the thicker outer layers into a diamond shape. Place a slice of Regina trout in each fennel "boat" with an orange segment trimmed of all the membrane. Drizzle a little oil over and serve.
Trota Regina and vegetable rolls with redcurrants and heart of palm
Thinly slice the Regina trout. Prepare a vegetable julienne of celery, carrot and courgette. Distribute the vegetables among the trout slices, then roll the slices up and leave in the fridge to rest for a few minutes. Cut the rolls in half and serve with a few redcurrants, a strip of palm heart and a drizzle of oil. Recommended wine: Sauvignon
Print recipe