Baccalà Delicato
[ recipes ]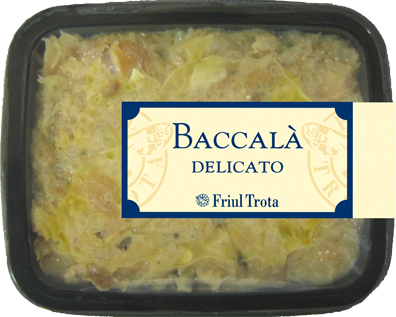 Rehydrated dried cod cooked in milk and vegetable oil.
Fish's origin
FAO Major Fishing Area 27.
Description
Our ambition is to get the best out of an excellent basic ingredient: prime Lofoton stockfish derived from large cod (Gadus morhua).
Unlike the classic recipe which includes flour, cheese, anchovies and other ingredients that are sometimes used as bulk, our Baccalà Delicato contains only stockfish, oil, milk and onion. Its delicate flavour appeals to everyone. If you like you can add a few anchovy fillets dissolved in warm oil and grated Grana Padano; or pine nuts and soaked raisins; or other ingredients typical of the "classic" recipe. Available in 2kg trays and in 130g trays for self-service.
Weight
130 g - 2 kg
Ingredients
Rehydrated dried cod (Gadus morhua), cow's milk, extra-virgin olive oil, sunflower oil, onion, salt, white pepper.