Petto di Pollo affumicato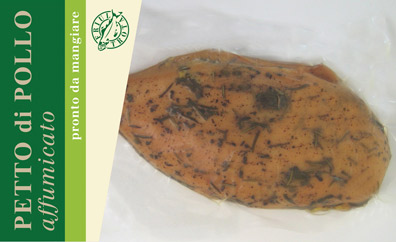 Steamed and lightly smoked chicken breast with spices and herbs, vacuum-packed.
Fish's origin
Farmed in Italy.
Description
Delicious, hot-smoked and seasoned chicken breast, ready to eat.
Serve sliced on a bed of rocket or lamb's lettuce with an onion jam, peperonata (sweet peppers stewed with onions and tomatoes), smoked scarmorza cheese and button mushrooms.
Weight
250/800 g
Ingredients
Chicken meat, salt, herbs, natural flavouring.