Aringa Sciocca
[ recipes ]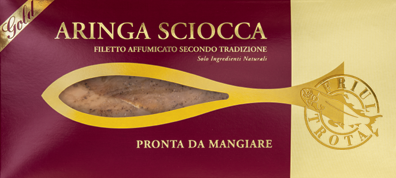 Plain steamed rainbow trout fillet. Ready-to-eat
Fish's origin
FAO Major Fishing Area 27.
Description
We call our herring "sciocca" which in Italian means 'without salt'. Our herring does in fact have less salt than the classic, northern-European herring. These herring fillets are delicately smoked and flavoured. Our artisan smoking method employs wood flours, aromatic berries and herbs. A special processing technique and light salting mean these fillets may be eaten as-is, without any de-salting before consumption. Sea-caught herrings traditionally processed using natural ingredients.
Weight
110/200 g
Ingredients
Herring, (Clupea harengus) salt, sugar, spices (coriander, curry, juniper, fennel, black pepper) in varying proportions.
Production method
hot smoking cold