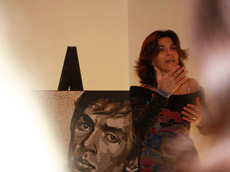 Dear friends , we are pleased to share a dinner with you, between lovers of art and good food.
Paola Gortan, artist protagonist of the exhibition of mosaics at our tasting room ,will tell us her path as an artist, revealing secrets and curiosities on the art of mosaic.
We are waiting for you on Friday 16th at our dining room at 7.30 pm.
Chefs Claudio and Raffaele, from the cooking school "Il Platina" in San Daniele del Friuli, will prepare the dinner and we will taste dishes of our specialties.