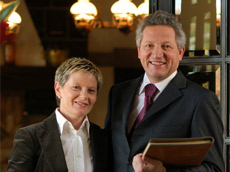 We recommence our cookery courses with top regional chefs. This time we're at La Taverna, which has held a Michelin star since 1997. La Taverna's cuisine is based on a new approach to the flavours and perfumes of local traditional dishes, in harmony with the seasons.
Piero Zanini and his young chef Luca Domini will be with us on Wednesday 18 February with these mouth-watering dishes:
- Composition of Aringa Sciocca, apples, gherkins, and sour yogurt with dill;
- Smoked Petto di Pollo, potato cloud, spicy toasted bread and rosemary sauce;
- Sprouting broccoli with nuggets of Baccalà Mantecato and Sgombro Affumicato, and polenta crisps;
- Fresh egg pasta raviolo stuffed with two trout (Regina di San Daniele and Fil di Fumo) on a leek fondue with Trota Regina caviar;
- Puntarelle salad with fried Branzino al Naturale and Cantabrico anchovy sauce;
- White and raspberry tiramisu sphere.
Accompanied by selected regional wines.
All the recipes will be prepared and explained by the chef in the open kitchen.
Info and booking: marina@friultrota.it oppure 0432 956560.